How to reduce pain during sex?
How to reduce pain during sex?

Jaseela
Updated on November 07, 2023

Medically verified by Dr. Arya

Fact checked by Sreemoyee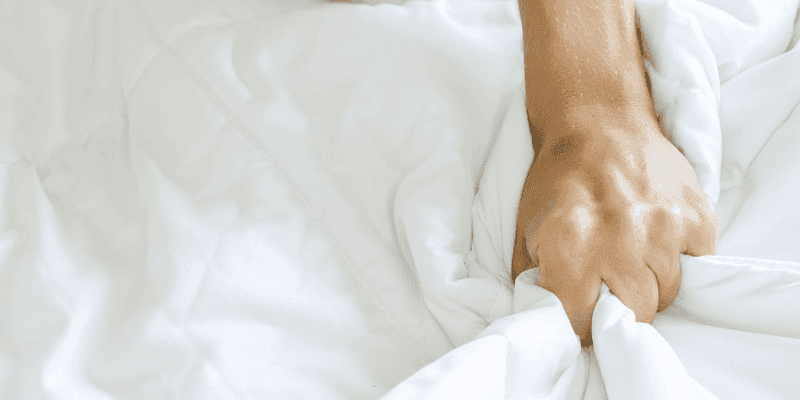 Worried of pain during sex? Well, you don't have to worry. Because, a lot of people do experience pain during sexual intercourse.
Sexual pain can be due to different reasons for different people. While pain during sex can occur to both men and women, it is mostly reported among women.
What Is Pain During Sex (Dyspareunia)?
If you experience pain during sex constantly, it is a serious problem that needs medical attention. The recurring occurrence of pain during sex is scientifically called dyspareunia.
Sexual pain can be experienced within the pelvis or in the genitals. This sharp and intense pain happens before, during or after sexual intercourse.
But, you don't have to waste time worrying. The pain will be relieved by seeking suitable treatments.
Mykare Health is here to help you decode the causes of painful sex and the various ways by which you can overcome it.
Causes Of Painful Sex
Painful Penetration: It is the occurrence of pain during the penetration of penis into the vagina. This can either be at the vaginal opening, or deeper in the pelvic area. It can happen at the beginning or during thrusting.
Burning Sensation: During sexual intercourse, some people say that they have a burning sensation.
Throbbing Pain: Throbbing pain is a cramping pain we feel in the pelvic region during or after sex.
Localised Pain: This type of pain can be felt in some specific areas like at the vaginal opening, deep inside the penis or at the base of the penis.
Discomfort With Specific Movements: The sexual pain can be triggered by specific movements or positions during sex.
Painful Erections: The sexual pain can be caused by Peyronie's disease in men. Peyronie's disease is a condition in which the penis develops as a bend due to the build up of tissue inside it.
It causes painful erections and overall discomfort for engaging in sexual activities.
Muscle Spasms (Vaginismus) and Painful Sex
Muscle spasms are the involuntary tightening of muscles around vagina. This condition makes penetration painful and difficult.
If you have muscle spasms, the penetration is sometimes even impossible. It can happen to women of all the ages of life. This condition often leads you to emotional distress and anxiety.
Muscle Spasms are of two types:
1.Primary Muscle Spasms 2. Secondary Muscle Spasms
Primary Vaginismus
Primary muscle spasms occur when a woman has never been able to have sex due to their muscle contractions.
This type of muscle spasms become visible the first time itself when a woman tries to engage in sexual intercourse.
Moreover, this condition can have a toll on relationships and may result in troubles. The failure in penetration often leads to emotional distress and to the end of relationships.
Secondary Vaginismus
Secondary vaginismus is the sudden occurrence of symptoms of vaginismus. It happens to a person who has previously experienced painless sexual penetration.
Unlike the primary vaginismus, secondary vaginismus develops after a period of normal sexual intercourses.
It can be triggered by trauma, infections, medical procedures, menopause, psychological factors and negative sexual experiences.
What Leads To Painful Sex
There are physical causes as well as psychological causes for occurrence of recurring sexual pain.
Physical Causes
Vaginal dryness after menopause: After menopause, your hormones will undergo some kind of changes. These changes will cause the thinning of the vaginal walls.
Infections: Yeast infections, urinary tract infections, sexually transmitted infections cause inflammation.
Pelvic Inflammatory Disease (PID): Pelvic inflammatory disease is an infection in the female reproductive system. It causes pelvic pain and discomfortable sex.
Vaginismus: A condition in which the vaginal muscles will unintentionally contract.
Injury or Surgery: If you have undergone any pelvic surgery, or have other injuries around your genital area, it can change the structure of the genitals.
Certain Medical Conditions: Conditions such as interstitial cystitis can lead to pain during sex.
Psychological Causes
Anxiety & Stress
- Performance Anxiety: If you are anxious that you might not be able to satisfy your partner, it can result in uncomfortable sex.
- General Anxiety: If you usually have anxiety issues, it can lead to muscle tension. This will affect sexual arousal, which makes penetration painful. The anxiety can be associated with sexual activities or about other aspects of your life.
Past Traumatic Experiences
Sexual Abuse: If you have experienced any sexual abuse, you may relate sex with fear and pain. This fear can actually lead to discomfortable sex. Discomfortable sex will always be a painful experience.
Relationship Issues
Lack Of Emotional Intimacy: If you don't have a strong emotional connection with your partner, both of you might be worried about sex. This anxiety will affect the overall sexual performance, leading to painful sex.
Moreover, the communication gap can also contribute to this. A good sexual performance is a result of good emotional intimacy and clear communication.
How Is Sexual Pain Diagnosed?
There are different types of tests your doctor will use to identify and diagnose you with this condition.
Your doctor will create a sexual and medical history by considering your sexual conditions. The doctors might ask you questions such as:
Exactly when and where do you feel the pain?

Is your partner supportive to help you in this situation?

Which positions are causing you sexual pain?

With which partner do you feel the sexual pain?
Are there any medical conditions which contribute to this pain?
Following this QnA, your doctor may conduct a pelvic examination.
Pelvic Examination
Basically, pelvic examination is a medical procedure to understand the reproductive, as well as the sexual health of a person.
It involves examining the pelvic organs like vagina, cervix, ovaries and uterus.
This exam is significant for detecting various infections, to understand your reproductive health, and to identify certain medical conditions.
While conducting the pelvic examination, your doctor will be checking for certain signs of infections.
They may gently apply pressure on certain areas of your genitals and pelvic muscles. This is to locate where you exactly feel the pain.
If you feel any discomfort during pelvic examination, you can definitely tell your doctor to stop the examination. Usually, some women face pain during pelvic examination.
Other Tests
If your doctor has identified any issues with your pelvic examination, he would recommend you to do a pelvic ultrasound test.
Book Your Consultation Now
Treatment
There will be different kinds of causes behind the pain during sexual intercourse. According to these causes, the treatment can also vary.
The first step to perform the treatment is to understand the exact cause behind this pain. Once the cause is determined, suitable treatments can be prescribed along with the medication. Here are some common medications which your doctor might be using.
Medications
For Infections -
Antibiotics: If the cause of sexual pain is bacterial infections like urinary tract infection, antibiotics might be prescribed.
For Hormonal Imbalances -
Hormone Therapy: Women who are going through postmenopause will be experiencing dryness in their vagina. This dryness contributes to the pain during sexual intercourse.
If you are a woman going through postmenopausal period, then hormone replacement therapy (HRT) can help to reduce vaginal dryness.
Topical Estrogen Creams: Using topical estrogen creams can help you to restore the vaginal tissues and to reduce dryness. Make sure you apply this only with a doctor's prescription.
For Muscular Tissues -
Muscle Relaxants: If the cause of your pain is due to the pelvic floor muscle spasms, muscle relaxants might be prescribed for you. It will help to make your muscles relaxed and helps to enjoy a good sex.
For Pain Relief-
Pain Relievers: Your doctor might prescribe you with pain relievers such as ibuprofen or acetaminophen to help you reduce the pain and inflammation related to this pain.
For Psychological Factors-
Anti- Anxiety Medications: If your anxiety or stress is playing a significant role in contributing to sexual pain, anti-anxiety or antidepressants might be prescribed. These medications have the power to reduce your anxiety and provide relaxation.
For Allergic Reactions Or Skin Conditions:
Antihistamines: If your sexual pain is caused by some allergic reactions or certain skin conditions, antihistamines might be prescribed.
However, your doctor may prescribe other kinds of medications according to your exact condition.
Key Takeaways
If you are experiencing pain during sex constantly, it needs medical attention. This sexual condition is scientifically called dyspareunia.
The causes of painful can be sex can be psychological or physical.
To treat pain during sex, you need to understand the underlying cause with the help of a healthcare expert.
Tests like pelvic examination, pelvic ultrasound etc are used to diagnose the causes of pain during sex.
Treatments available as medications and other types of therapy.